Home Automation Ideas – The Best Smart Home Gadgets & Products for 2020
The rise in popularity of smart home gadgets in American households has skyrocketed within the last few years.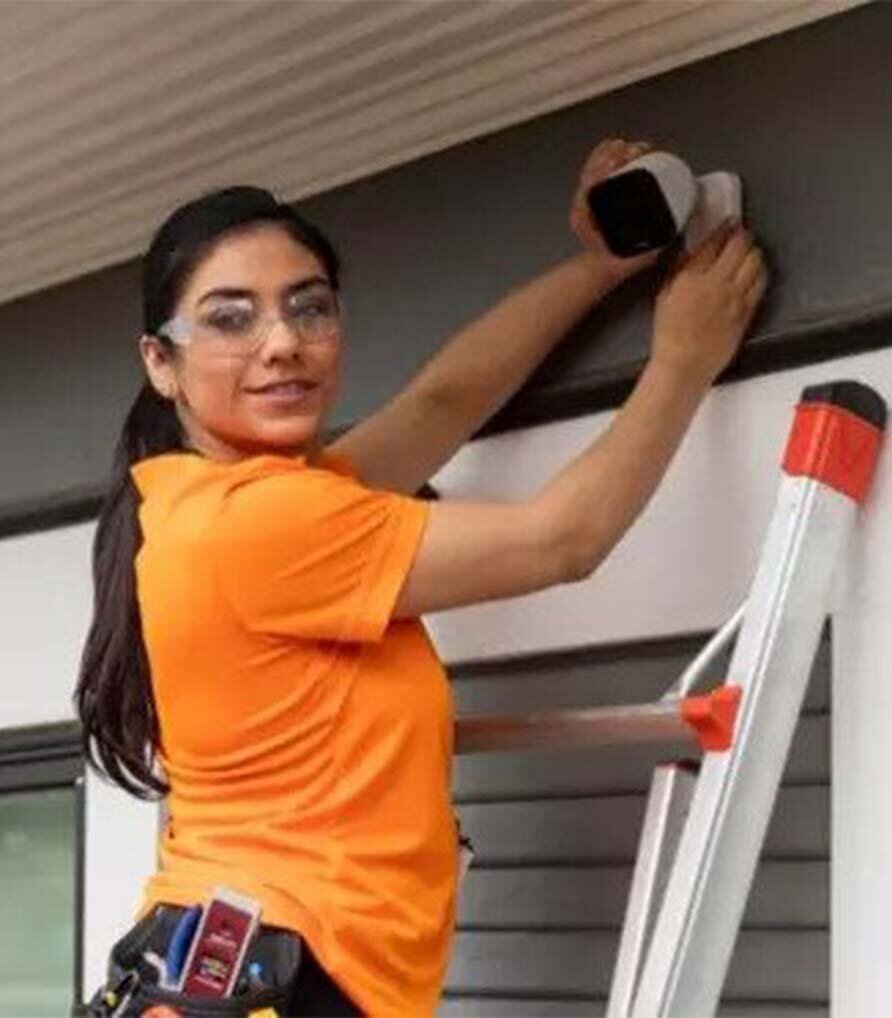 According to Statista, the American Smart Home market revenue estimates at US$24,972 million in 2020 alone.
What makes them popular are the myriad benefits presented. They can power up your light bulbs, fasten your door locks, stream music onto your sound system, and much more. Using smart home automation ideas to empower your house can be awesome.
Aside from their functionality, smart home gadgets conveniently reduce your energy expenditure, thus decreasing bills. For example, allowing your automated device to turn your TV off instead of standby mode will save electricity.
Many smart home products come implemented with assistant based technology to monitor and adjust your devices. However, not all products are reliable. Therefore we tossed aside the bad apples to give you an insightful review on exceptional products for your smart home automation needs.
What Is a Smart Home Gadget?
Picture having a home full of interactive devices, an ecosystem in which all your gadgets can communicate and share information. From your laptop, TV, surround system, lighting, camera, doorbells, smoke detectors, kitchen appliances to primarily every electrical device in your possession. Now, picture issuing commands from the comfort of the couch instead of standing up to switch off the lights, you simply just speak and voila! Lights out!
In essence, home automation innovations bring us closer to technology. There are a means of enhancing our life by computerizing the objects we interact with daily. That said there are countless smart home gadgets to choose from; hence, we give you an in-depth guide into some of the most utilized home automation ideas to help keep you in the loop.
Smart Home Surveillance Systems
Outdoor Camera Pro
The Outdoor Camera Pro poses to be one of the few smart home products which feature lurker detection. It automatically identifies bystanders with intelligent surveillance to help deter suspicious activity on the fly. Get notifications sent straight to your smartphone whenever movement is detected near your home. Accurate proximity modules in devices ensure to differentiate humans from dogs, cats, and vehicles.
One other convenient feature of the Vivint Pro is it lets you record in full HD+ wide angles to catch all the action. The camera accurately exposes blind spots and enables you to detect activity from a mile away without leaving the comfort of your home. True night vision capabilities ensure even in the night; you know what's happening.
Having the Vivint pro in your household feels like you've got a security guard. Not only does one feel safe but you also feel in control of your surroundings. The Vivint smartphone app lets you manage and observe camera footage remotely.
Features
Intelligent AI package sentry protection
Parcel delivery notifications
Live streaming
180 x 180-degree view
Infrared Night vision
2-way talk functionality
Doorbell Camera Pro
By now, I'm sure you're gradually becoming a fan of Vivint innovations. This next device is a newer addition to the Doorbell Camera Pro family. The pro edition comes holstered with a ton of features such as a powerful HDR camera with ultra-wide view capabilities. It also retains its original predecessor's aesthetic build only sleeker.
While the camera provides exceptional quality, the device is coherent with other products. With the latest AI update, users get integrated to Vivint's Smart Sentry system, which detects unwanted porch squatters and also notifies homeowners whenever parcels are dropped. You now have a better chance of catching the UPS carrier amidst his delivery routine.
A handy feature is the voice automated technology, which allows a two-way communication stream with the outside world. Speak to visitors anywhere, and anytime. Like most Vivint products, the doorbell pro can be used remotely with the Smart Home App. However, the downer is you'll require prior installation of any Vivint security system for you to utilize the full features of the device.
Features
Outstanding Footage quality
Ultra-wide view
Vivint devices compliant
Sharp Zoom
Voice-enabled
Ping Camera
Standing at only 5.2 inches long, this egg-shaped bad boy sits atop any surface with ease. Its 4MP camera

allows you to record quality 1080p crisp videos at a surprising 155 depth of view. While most devices fail to precisely capture activity at night, the Ping Camera comes bolted with three mega action infrared night vision sensors.
It may not be your bread and butter when it comes to aesthetics, but for a small device, it packs a punch. Embedded within its interior are a microphone, speaker, Wi-Fi functionality, and a motion sensor.
Unlike most camera devices, the Vivint Ping allows you to make video calls at the press of a button to your smartphone or tablet device. The well placed led ring alerts you when a call is made, declined, or accepted by flashing blue, red, and green, respectively. When paired to the Vivint smart home app, you gain full accessibility to a wide range of functions.
Features
HD wide angles
Record footage
Vivint playback
Custom notifications
Night vision
2-way talk functionality
Smart Drive
Provide more storage to your Vivint home security system devices. Smart drive allows for remote storage of your footage, anywhere, and anytime. It is a waif-enabled storage medium that will enable you to store all your playback and recordings. Unlike most cloud storage options, Smart Drive is only a fraction of the costs that features a 1TB storage solution. Event markers make it easier to identify and locate recordings in your timeline. You can remotely access playback with the built-in Vivint Smart Home integration service.
Multi-camera access allows you to record up to four cameras simultaneously. View your porch, interior, backyard, and driveway in split-screen. It's like being a fly with multiple views at the same time.
Features
Continuous recording
Vivint playback
Affordable storage plans
Event markers
Smart Home integrations
Records multiple cameras
24×7 Monitoring
Many home DIY security systems utilize outdated technology. While they may be a cost-effective way for frugal homeowners to save a few bucks, it can be a problem to contend in forceful home entry situations. For your local authorities to be called in, you need to subscribe to a home protection premium plan or manually ring them.
With Vivint, you get the protection you deserve at only a fraction of the cost. 24×7 Monitoring system helps you keep track of your security measures. Whenever your alarm gets triggered, it immediately sends out a distress signal which phones in professional security guards to your area in rapid time. You also gain access to other home automation services from your tablet, smartphone device, and computer.
With great power comes great responsibility, and with Vivint smart monitoring comes affordability, functionality, and security.
Features
Emergency alerts
24/7 Customer support
24 hour round the clock monitoring
Professional installation
Smart Home Temperature Regulator
Element Thermostat
Whether you're home or away, make the most of your energy savings with Element Thermostat. It features a smart assistant that grants wireless control over your thermostat. On the go, you can utilize the home app to access the device remotely. The user interface behind it makes it easy to use. Like a robot, the machine learns from your preferences and creates presets. This is pretty handy as it saves you the trouble of repeatedly toying with the settings. Not to mention it speaks! Well, almost entirely. See one neat trick we learned when pairing our thermostat to Amazon's Echo is you can command Alexa to alter the thermostat settings. Simple phrases like "Alexa turn up the heat in here" and boom you got yourself a furnace. In a nutshell, we think that having a voice-controlled thermostat is an excellent breakthrough amongst many home automation ideas.
Features
Temperature, humidity, light proximity sensors
Voice-controlled by Alexa
Easy to understand User Interface
Compact and aesthetic design
Energy savings
Regular software updates
Smart Home Lighting Systems
Philips Hue
We all know Philips to be a pioneer in lighting and electrical solutions but not so much in the smart home products sector. However, the Philips Hue proves to be a game changer for the multimillion Dutch corporation. The Philips Hue combines the genius of Philips's lightning innovations with smart home technology. It is also a top tier product among the list of home automation ideas.
With Hue, you can remotely control the color and temperature of your light bulbs, switch them on or off and even reduce brightness. The Hue bulbs don't overheat, which in turn cuts down on wasted energy, thus saving you money. It's your ultimate smart bulb, unlike the common dumber ones.
Sync your smartphone and Amazon Echo to access extra functionality and voice commands. Set the mood for your guests by streaming your Spotify playlist in clear quality from the inbuilt speakers. Like most smart home products, Philips Hue can be integrated into an existing home network. It is a must-have intelligent lighting system for your home.
Features
Remote lighting adjustment
Wireless connectivity
Long life
Energy efficiency
Integrated speakers
Custom controls
Smart Home Alarm Systems and Sensors
Smoke Alarm
When it comes to detecting fires, this smoke alarm does the trick. Not only is it intelligent, but it is also reliable and sophisticated. At first glance, it may seem like your standard everyday alarm. However, in heated situations, the smart device responds in less than 8 seconds. This beats the typical industrial smoke detection timing of 52 seconds. Furthermore, in dicey scenarios, the device works hand in hand with your smart thermostat to turn off airflow to contain fires.
The artistic white glimmer of the smoke detector not only looks good but embedded within is a wireless transmitter and powerful battery, which ensures 24/7 surveillance even during power shortages.
Features
Battery-powered
Rapid response
35-foot radius detection
Pairs with a smart thermostat
Remotely controlled via Home Smart App
Water Sensor
Did you know that the average home loses 14% of water supplied due to leaks? With the Water Sensor, you can detect and prevent water damage before it occurs. Its ability to detect drops in temperatures within pipes and water outlets is quite cool. You'll love the convenience it brings. With it, you can effectively monitor pipes and water systems to mitigate the amount of water damage and billing. The devices' smart home features enable you to receive notifications directly to your smartphone. So on the first signs of a leak, you'll get alerted immediately.
Features
Moisture and temperature monitoring
Alerts and notifications
Robust design
Smart home app compliancy
CO Detector
A healthy carbon-free environment starts with the CO Detector. While it doesn't eradicate the earth's carbon footprint, the smart device lets you know when carbon monoxide is detected. Out of the smart detectors we've tested, Vivints first-generation Carbon Monoxide detector stands above the rest. It features a sophisticated electrochemical sensor that detects even the slightest traces of carbon monoxide with high precision. It's all rounded white curvature gives it a simplistic design. While it's compact frame makes for a portable device that fits in any space. You don't have to worry about powering it up as the device comes with a sturdy built-in battery for easy installation and round the clock detection.
Features
Smart Hub panel synchronization
Rapid acute CO detection
Smart home integration for easy monitoring
Alerts and notifications to your smartphone
Smart Home Door Locks
Kwikset Smart Lock
Quietly keep rogue elements at bay with the Kwikset Smart Lock. Kwikset is a well-known brand amongst many house lock systems. An impressive feature is that it allows you to lock and unlock your doors from the next room, work, or even state remotely giving you unparalleled authority and sentry over your home defense effortlessly. The Kwikset alleviates the hassle of having to look for your door keys when you're on the rush. The convenience the device brings is a wave of relief. You don't have to worry about whether you forgot to lock the door or not. If you plan to set up your house on Airbnb, with Kwikset, you can easily regulate who gets and who stays out effortlessly.
Features
Control your door system
Mobile lock access
Secure against unauthorized personnel
Alerts and notifications to remind you if door left unlocked
Garage Door Control
Gain access to your garage door anywhere and anytime with garage door control. According to the Federal Bureau of Investigation (FBI) 33% of most house break-ins occurs due to open windows, doors, and even garages. Mitigate the chances of burglary by installing a capable smart door control system for your garage. Gone are the days where you forget to shut your garage door. Utilize this stylish home automation device's unique features, such as remote access, which notifies you whenever your door opens or closes. Couple the device with other Vivint home security products to take advantage of full-fledged accessibility and options.
Features
Wi-Fi connectivity
Compatible with other automatic garage doors
Smart home app integration
Remote access via the app
Smart Home Speakers
Amazon Echo
What better way to seamlessly automate your smart home than the use of voice recognition commands? Like Apple's Siri or Microsoft's Cortana, Amazon Echo comes featured with its voice automated AI Alexa. The Amazon Echo is a brand of wireless Bluetooth speakers powered by voice assistant technology Alexa. It branches from a family of next-gen devices such as the Echo Dot, Echo Studio, and the Show-5 series.
Pair the Echo with other devices for complete voice control over your household. Control your locks, lights, camera, and thermostat from the sound of your voice.
The Amazon Echo comes neatly designed featuring an ergonomic matte black frame. You can stream audio effortlessly in clear quality thanks to the Echo's high grade eccentric sounding speakers. Even amidst a party, Alexa can still comprehend voice commands no matter how busy the room gets. One thing we enjoyed about the Echo is how responsive it is. You don't have to repeat yourself for the command to register, unlike other inferior AI systems.
If you're thinking of revamping your sound system or automate your house better, then Amazon Echo is the device for you.
Features
Bluetooth streaming and pair
Alexa AI voice-enabled assistant
Responsive
Far-field voice recognition
Integration with other smart products
Quality audio
Google Home
If you're an audiophile, then you're going to love it. Google Home is a versatile Bluetooth speaker that can turn your home into a techno-hub. It's white bulkish frame packs in a lot of convenient features that allow access to smart home gadgets, make phone calls, and much more. If you're not into the design, Google Home will enable you to customize its base to your liking. The intelligent AI featured speaker utilizes Google's supreme web technology to ascertain your commands better and gives you access to a stream of information, music, and podcasts. Translate conversations with ease thanks to the integration of Google translate services into the home device.
Features
Crystal clear audio
A far-field microphone that can listen to commands yards away
Build-in google assistance voice aided AI
Easy touch surface volume controls
Accessorize the base with a variety of fabric, metal with up to six colors.
Final thoughts
When it comes to conventionally switching your home to an eccentric smart hub, you need to feature in some essential smart home products to make your life a breeze. Mix and match these gadgets and products to fit your home automation ideas.
As you begin your quest for the ultimate home automation, bear in mind that some devices mentioned can't work independently. Therefore, as you do your research ensure to pair devices that work coherently with each other, for example, monitoring systems such as Vivint 24×7 Monitoring work well when paired with surveillance gadgets like the Outdoor Camera Pro. With smart home gadgets, the possibilities are endless.